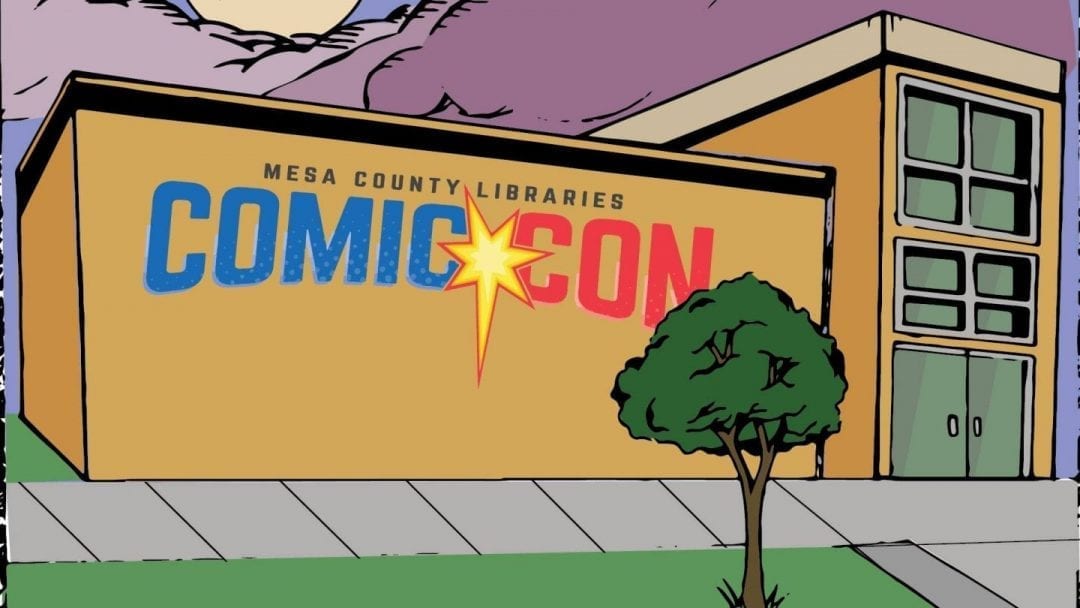 Do you like to celebrate popular culture, cosplay, comics, video games and music?
Then make sure to check out the  Mesa County Libraries Comic Con!
Mesa County Libraries Comic Con is a celebration of comic books, comic art, pop culture, science fiction, fantasy, anime, manga, books, graphic novels, movies, and more. Admission to Mesa County Libraries Comic Con is free!
Event highlights include geek meetups, panel discussions, kids' and teens' activities, hands-on workshops, vendors, cosplay, and a costume contest.
Schedule of Events:
Community Room:
10am-12pm: Cosplay Workshop with Shadowfall
1-2pm: 501st Legion
2-3pm: Panel of Geek Gurus: Panel Discussion Featuring Sundial Hoffman, Arn McConnell, James Van Pelt, and Bryan Wade.
3pm: Costume Contest and Parade
Patio:
West Side:
10am: Star Wars
11am: Superheroes
1pm: Anime & Manga
2pm: Star Trek
East Side:
10am: Doctor Who
11am: Harry Potter
1pm: Walking Dead
2pm: Pokemon/Nintendo
Children's Center:
10-11am: Story Time
11am-12pm: Face Painting
1-3pm: Drawing with the Pros featuring:
1pm: Bryan Wade
1:30pm: Aaron Herrera
2pm: Mary Carman
Presenters and Special Guests:
ShadowFall Workshop
The 501st Legion
Arn McConnell
James Van Pelt
Blueswade Cartoons
Vendors:
Mec-Canic Studios
Blueswade Cartoons
COMIC TALK616
CutieHats
CW / KJCT News 8
The 501st Legion
Gruesome 2some Entertainment
Heavenstar
Infinite Media Productions
The Jester's Court
GJ's Justice League of HOPE
M. BrookeS
Mustachiosaurus
ShadowFall Workshop
Top 5 Comics
Mesa County Libraries
Con official hashtag: #MCLComicCon
Then at the end of the day join us at Cospalooza! A family-friendly, all ages event offering a safe space to celebrate popular culture, cosplay, comics, video games and music! It's a costume party, fandom meet-up, geek out rock concert with big screen video games as a bonus!
This is a fundraiser for the Avalon Theatre Foundation. Find out more about our mission to preserve, promote and enhance The Avalon Theatre for community benefit at: http://www.avalontheatrefoundation.org
About the bands:
KIRBY KRACKLE:
Kirby Krackle is an internationally touring nerd-rock artist featuring the music of songwriter and performer Kyle Stevens. Pioneering the genre in 2009, Kirby Krackle is known the world over as the go-to band for heartfelt songs dedicated to the best in comic books, video games, and geek-culture with YouTube videos totaling over 3.5 million views and has been featured on MTV, iO9, Boing Boing, Gizmodo and more. http://kirbykracklemusic.com/
TEKFORCE:
TekForce has been a lover of video games and hip hop music as far back as he can remember.
It started when his parents bought him a Atari 2600 and he discovered a game called Pac-Man. From there, he moved to Nintendo, Genesis, and so on. At the same time, he had the benefit of an older brother that helped cultivate his love of music. He was influenced by classic groups like Run-Dmc, LL Cool J to A Tribe Called Quest and Gangstarr. He started making music, and in 2013 learned about nerdy music, and found his path in hip hop.
His first album was called, Tek Support and it kick started another chapter in his music life. He's performed at many cons including, Retropalooza, Dallas Comic Con, Classic Games Fest, and even was featured at the opening of the National Video Game Museum in Frisco, tx. TekForce is honored to be a part of Mesa County Libraries Comic Con, and looks forward to having a great time!
https://tekforce1.bandcamp.com/